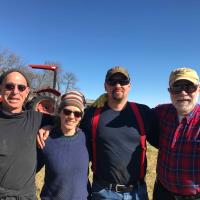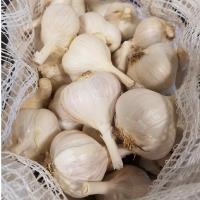 Prairie Coteau Farm
Contact: Kristianna Gehant Siddens
Address: 19079 487th Ave Astoria, SD, 57213
Email Address: prairiegarlicsd@gmail.com
Phone: 605-832-2062
About Us
Our family of four works to grow healthy food on our farm in Deuel County, SD. We specialize in certified organic garlic, garlic scapes and 100% grassfed lamb. We currently offer six varieties of garlic. In 2016 we added a flock of Clun Forest cross sheep to provide on-farm fertility and offer grassfed meat and fiber products. We are thrilled with the added challenge and enjoyment of raising sheep. Producing quality, nutritious food sustainably has always been a passion for us!
Practices
We are committed to certified organic growing practices for the health of ourselves, our customers and our environment. We utilize crop rotation, cover cropping, mulching and rotational grazing to produce healthy garlic and grass without synthetic herbicides, pesticides or fertilizers. We apply naturally-sourced minerals and amendments for a well-balanced, biologically active soil that provides fertility while reducing pests and disease.

Years ago we established perennial natives like Big Bluestem, Indian grass and Switch grass for use as garlic mulch and to provide continuous soil cover on erodible areas. In 2016 we planted additional acres of native grasses and flowers to provide pollinator habitat and grazing for our sheep. Our goal is to use natural systems in a holistic approach to stewarding our land.