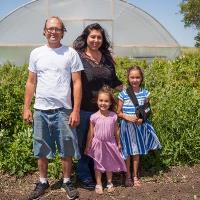 Sweetgrass Farm
Contact: Alex and Miranda Koltze
Address: 813 S. Lowell Ave Sioux Falls, SD, 57103
Email Address: sweetgrassfarmsd@outlook.com
Phone: 605-321-7461
About Us
We are a small family farm that grows a little of everything but we're starting to narrow our focus and find our specialties, things that we can grow better than everyone else! Our diverse fruit orchards and expanding honeybee hives will soon be taking center stage
Practices
All of our fertility is provided by our animals(ducks, chickens, goats, pigs, and rabbits) and the bedding they use. All animal waste is composted thoroughly before addition to growing areas. We are 100% chemical free! No herbicides, pesticides or fungicides are used, not even organic ones.
Our ducks spend their days on our completely chemical free pastures eating diverse forages and bugs. They are also supplemented with chemical free, non GMO feed from a local grain farmer. Flax is included in the feed mix to supercharge the Omega 3 content of our eggs.
Please do not hesitate to contact us if you want to know more about our operation!