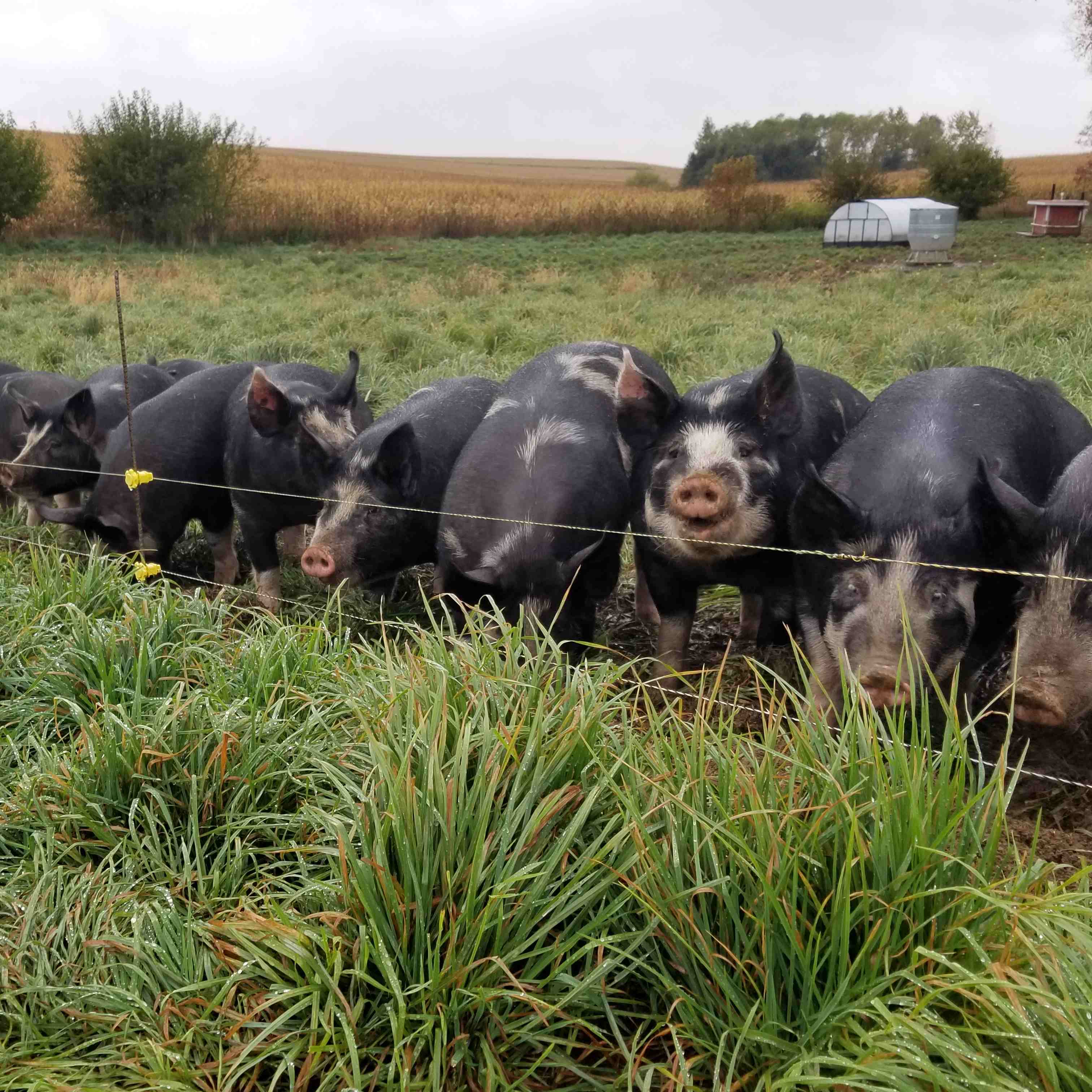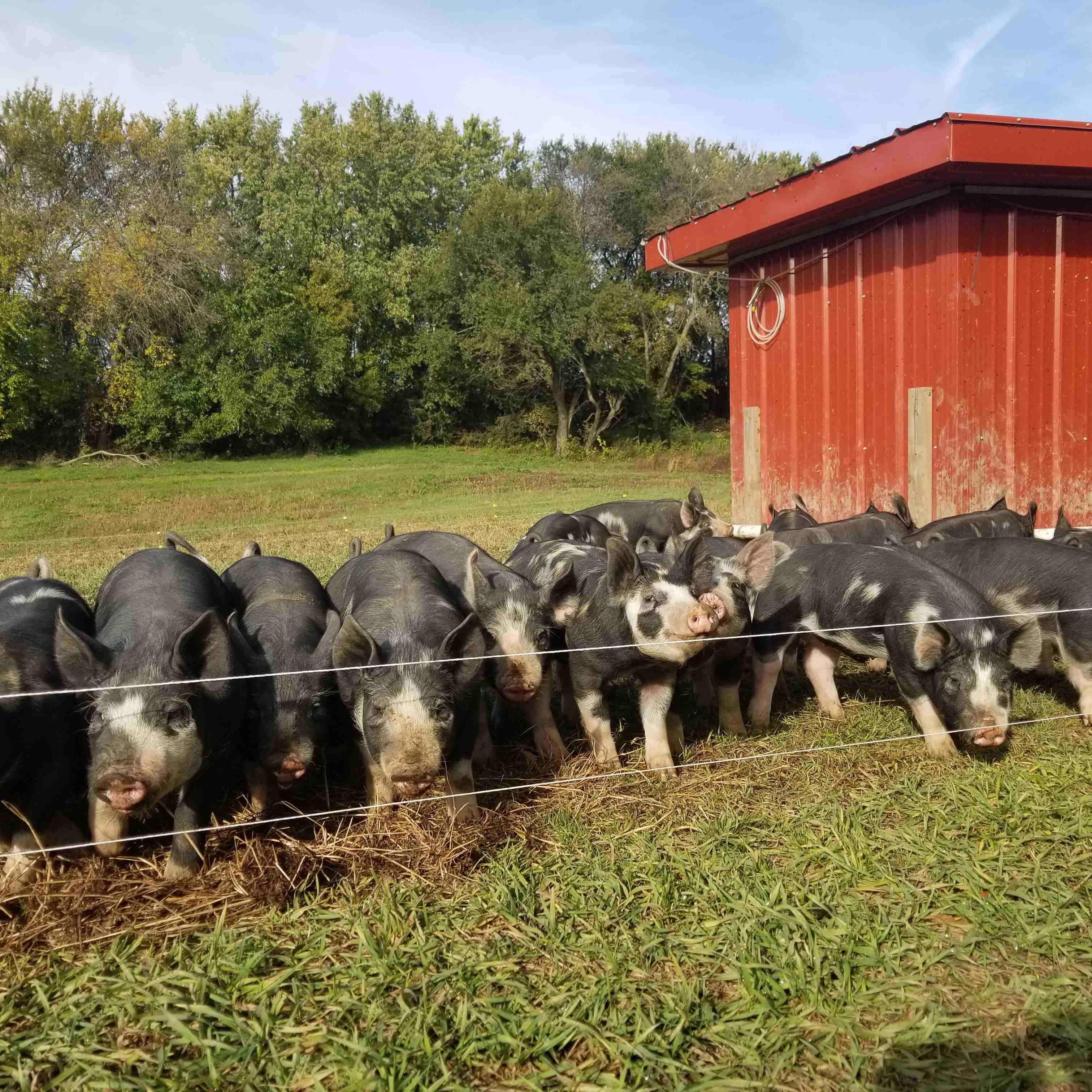 Lindy Land & Livestock LLC
Contact: Matt and Jamie Lindemann
Address: 30737 480th Ave Alcester, SD, 57001
Email Address: jlindemann@thel3co.com
Phone: 605-759-7219
About Us
L3 Co. was started from a passion of creating systems that bolster soil health and provide a clean, natural environment for livestock production. The natural instincts of livestock, a unique implementation of automation, and a focus on animal and soil health allow us to produce a high quality product.

Simple is the best way to describe the process. Preferring to raise animals without the supportive use of vaccinations, antibiotics, or chemical dewormer on pasture is anything but simple for the grower. Close attention is and must be focused on each animal to ensure nutritional and conditional needs are not just met, but exceeded.

Good stewardship at L3 Co. means understanding the changes in animal and pasture behavior and performance and the relationship between the two. We take the time to apply the traditions of a rotational pasture grazing system and mix it with modern science and technology. Because of this, a fair amount of time must be invested with land and animal. We are actively loading our soil's seed bank with a diverse grass/legume mix, gathering and measuring the nutrient balances of our soil, and allowing time for sterilization, rest, and recovery. The animal receives the upmost attention and is provided high quality and diverse pasture with a free choice, non-medicated corn/soybean feed. They're delivered clean, cool, and plentiful amounts of water through our unique watering/shelter system. Not to mention, on warm days, they're provided a cooling mist and shade to relax and reduce heat related stresses.

High quality, purebred Berkshire pork is the basis of our operation today. Our pastures required the natural rooting of pigs to get going with rehabilitation. We didn't need Berkshires to get the process started, but we carefully selected this breed and particular lineage because of their instincts on pasture and the high quality, nutrient dense pork they can produce.
Practices
Without healthy, active, and diverse species of plant life and animal activity, our soil would be pretty lifeless. And because we choose to carefully monitor all this activity we are promoting the following: increases in soil organic matter, diversity in the soil microbiology, increasing moisture holding capacity, and harboring many different species of insects.
The animals are rotated off of a particular paddock and onto a new one. This allows time for the pasture to rest and recover. Rooting, manuring, and bedding are just a few of the activities the paddock see's during it's rotation. This is the exact behavior we want and expect because before moving animals to the next paddock, we broadcast a mix of clovers, pumpkin, watermelon, forage collards, and grasses to added to our ongoing plant diversity. If left long enough, we would eventually see nothing but dirt, but because we measure daily feed intake, we can establish when the items in the pasture that the animals desire have diminished. This sets the stage for the next rotation.
On a given pasture, we are able to rotate the animals roughly three times over each paddock. Because of lots of sunlight, moisture, and nutrients, the pasture is able to self-sterilize and repair. Not only is the regrowth happening of the existing plants, but also a good share of the broadcast mix we added prior to using the paddock.
Rooting activity promotes incorporation of additional seed into the seedbed.
We are continually sampling and measuring the regeneration of the soil that our pastures are on. This gives us a measurement and an indication of progress. Because each pasture is not used for animals year after year, we allow time for other uses. Those other uses include corn, soybean, oats and just plain rest.